AJ Styles has held the WWE Championship for over 300 days, seeing off SmackDown Superstars like Jinder Mahal, Shinsuke Nakamura, Kevin Owens, and is now in a feud with old rival Samoa Joe.
It seems like Joe and Styles will still be in a feud, but with an addition of two other SmackDown Superstars, in the near future.
The Styles-Joe feud has got pretty personal, with Joe bringing Styles' wife and family into the feud in his promos.
Styles defeated Joe at SummerSlam as well as at Super Show-Down, and it was announced following that match that Styles will face off against Daniel Bryan at the Crown Jewel event in Saudi Arabia in November.A Reddit user, dipdipbeantot, has posted a screen grab of a match advertised for a SmackDown Live show on December 29, 2018 in Pittsburgh. The advertisement shows that the WWE Championship will be on the line where Samoa Joe, Daniel Bryan, AJ Styles and The Miz face off for the championship.
It doesn't show who the champion is, though, but with AJ Styles in the center of the picture, it's likely that he will still hold the belt when this show takes place.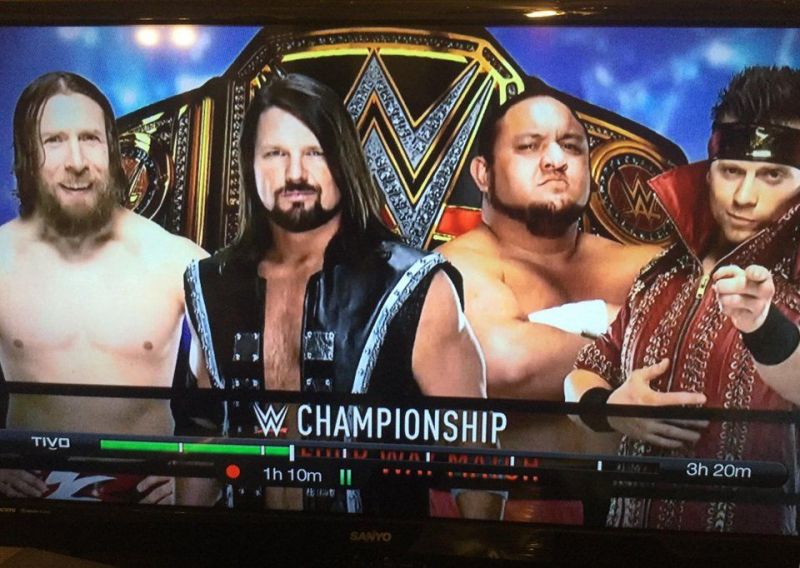 The show, maybe a live event show, as it is going to take place on a Saturday, but could also be a part of WWE's festive season shows.
For now, AJ Styles and Daniel Bryan will face off at WWE's Crown Jewel event in Saudi Arabia, on November 2, 2018. Styles current reign as WWE Champion is the longest in SmackDown history, and it seems that he will hold on to the belt for a little longer.