Having performed for the WWE in the late 1990s and early 2000s, R-Truth wrestled in several other promotions including TNA (now–Impact Wrestling), before returning to the WWE in 2008. The Truth has been a staple of the WWE's main roster ever since, and is regarded by many as one of the most hard-working and consistent performers today.
Despite being a veteran of the business, what with him having competed for well over a couple of decades, R-Truth has never quite been able to capture a World Championship in the WWE. Blame it on a lack of push or untimely injuries derailing his potential world title runs, it's simply criminal that this underrated Superstar is yet to even get a whiff of the coveted gold in the WWE Universe.
With his recent resurgence on the main roster, courtesy him teaming up with Carmella, fan-interest in R-Truth seems to have reignited in a huge way. Today, we are going to be looking at the before, during and after of a highly desirable possible storyline where R-Truth captures the WWE Championship on SmackDown Live…
#5 Be like water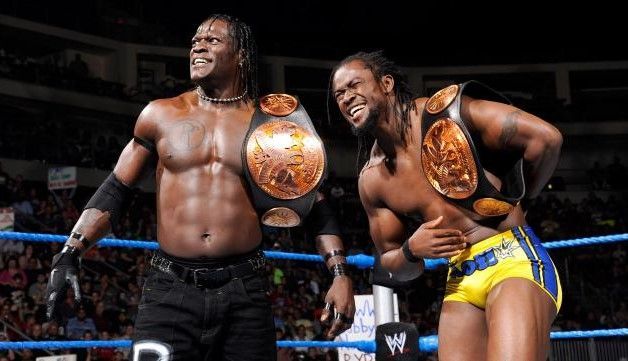 To paraphrase legendary martial artist Bruce Lee — "Be like water, my friend." — It's indeed an invaluable lesson in any and every dominion of life that adaptability is key for an individual to succeed. What the aforesaid Bruce Lee saying implies, is that you must be ready to adapt to whatever life throws your way.
Now, it wouldn't be an overstatement to say that R-Truth is the embodiment of that theory! The man known to sports-entertainment fans the world over alternately as Ron Killings has shined like a true star irrespective of what role the WWE accords to him…R-Truth can be a comedic performer, a serious fast-paced athlete, a maniacal villain, a pitbull-like tenacious warrior, and so on and so forth.
R-Truth once held the WWE Tag Team Championships with Kofi Kingston — at a time when the former started gaining an incredible amount of traction as a potential big-time star — which simply goes to show that Truth excelling in a tag team role without any excessive push, truly proves how over he'd be should the company get behind him by making him WWE Champion…